Trauma Training Tip
Each time our Sympathetic Nervous System is activated in the face of threat, our fight or flight response delivers a message across the control cycle from our Wood to our Earth to shut down peristalsis in our guts. In this moment we need all our Qiand blood to focus on our muscles and joints to mobilize a response to this immediate life threat.  Early life trauma, or overwhelming and recurrent adult traumas can create a habituated state of "freeze" in our viscera with profound impact on our vitality and the many functions of our "belly brain".
This brain specializes in letting us know what is safe, life sustaining, or threatening — even if we can't explain exactly why. It communicates using sensations rather than cognition to tell us who is creepy, and who may become a helpful mentor or good friend — as well just how delightful a ripe peach is. We are referring to this belly brain when we say, "I knew it in my guts." When we collapse into a freeze state, the resulting numbing and inhibiting effect removes our awareness from important information our gut provides about safety, threat, comfort, self-connection, and how we feel in relation to others.
Acupuncturists and other body-oriented providers whose goal is to restore balance and regulation for trauma survivors can celebrate every time a client burps, farts or experiences a belly "gurgle".  Peristalsis is returning to their viscera – and this freeze state is thawing. Our clients will be more able to transform food into blood and Qi.  Their gut biome's function to produce neurotransmitters, such as serotonin and dopamine, as well as the function of their immune system will be enhanced.
The function of the viscera, which overlaps with how AAM understands the Fu, or the yang organs, is to process and move impure substances.  Surely if our Fu are frozen, we will be challenged to process and move both these impure substances – and those "impure" life-experiences that remain in our tissue-memory.
Alaine's Two Cents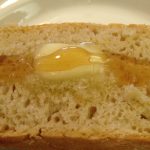 Healing trauma spreads like honey on warm toast. The impact of federal policies on immigration is destroying families and communities.  Acupuncturists Without Borders is meeting this crisis with healing vibrations in the National Capital Area, and all over the world.
The local chapter will hold a FUNDRAISER on Friday evening, September 7 at Crossings Healing and Wellness, 8720 Georgia Avenue, Suite 300, in Silver Spring, MD from 7:30 to 9:30 pm. This is a celebration of one year of local service to immigrants, refugees and neighbors in need, with over 250 free acupuncture treatments provided to vulnerable neighbors, and the partnerships cultivated with Casa de Maryland and Espaço Cultural Samba Trovão Brazilian Cultural Center.
Featured will be AWB's Associate Director, Carla Cassler, who coordinates AWB's Disaster Relief, Israel-West Bank, Community Service Clinic and Military Stress Recovery Programs.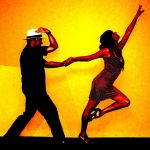 Put your dancin' shoes on – the culmination of this event will be a Salsa lesson and an open dance session!
Can't make it?  Make your donation via credit card at: https://donatenow.networkforgood.org/1443018 or send a check, made out to Acupuncturists Without Borders, to PO Box 204, Hyattsville, MD 20781.  All donations are tax deductible.
Check This Out
Stanford Hospital's Pankaj Jay Pasricha, MD, explains the interaction between the brain in our gut and the one in our head. Pasricha also describes the disorders that occur within our gut systems.  https://www.youtube.com/watch?v=UXx4WTVU34Y
Clinical Curiosity
Where is your clinical curiosity carrying you? 
Send me a question or two and I will explore them with readers in this corner next month.
---
Q.  I'm working with a woman who has very little body-awareness. In fact, she lives a "short distance from her body". Are there verbal cues I can use to help her differentiate or identify body sensations and re-inhabit her body?
A. You are speaking of the concept of "interoception". It refers to our subjective perception of our body state. Many trauma survivors are interoceptively challenged. It was a perfect management strategy once upon a time to create some distance between her body-sensations and her conscious awareness – but isn't so helpful in the long term. Misrepresentations of our internal state or disconnect between our body's signals and the brain's assessment, interpretation, and predictive meaning of those signals capacity puts us at risk while navigating life. Stephen Porges refers to interoception as our sixth sense and asserts that it is "the foundation of physical, psychological, and social development".
Here's a few verbal cues you can use to help your client cultivate her interoceptive sense:
From the outside, I'm noticing this (e.g., the muscles in your face softening, your breath moving more deeply). I wonder—what are you noticing from the inside?
As you notice this (e.g., the muscles in your back softening, your deeper breath), what do you notice in the rest of you?

As you took that deeper breath, I wondered: what you noticed in the rest of you?

That was a nice gurgle in your belly—and from the outside, your body appears softer. I wonder—what does that feel like on the inside?

From the outside, it appears your jaw is getting tight. I wonder—if you brought your attention to wherever this chair feels the most comfortable or supportive, what would happen in your jaw?

If you take your attention to your this (e.g., bone, skin, muscle), then bring your attention to your this (e.g., bone, skin, muscle)—is there one you prefer to the other? Is there one whose sensations you like – or dislike?