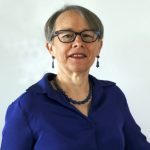 I am a Licensed Acupuncturist and certified Somatic Experiencing Practitioner. I graduated from the Maryland University of Integrative Health (formerly TAI Sophia Institute) with a Master's Degree in Acupuncture in 1990 and completed Somatic Experiencing Practitioner training in 2007.  I completed certification in the use of touch to build capacity for self-regulation in trauma survivors in 2012; and Somatic Resilience and Regulation Training in body-centered approaches to ameliorate the impact of pre-and peri-natal trauma in 2015.
My research background includes serving on studies assessing the impact of integrative medicine on compassion fatigue in military caregivers; the use of acupuncture for the treatment of combat-related traumatic stress, the treatment of chronic headaches in current conflict Veterans with traumatic brain injuries and for Gulf War Veterans Illness.
I was a Founding Director of Crossings Healing & Wellness in Silver Spring, MD.  I am also a charter member of the Integrative Health & Wellness program at the DC Veterans Administration Medical Center, serving as a contractor there since 2007.
I founded Integrative Healing, LLC in 2012 with a goal to integrate the wisdom of Chinese Medicine with the study of neurobiology and traumatic stress in both the classroom and the treatment room.
I am an adjunct faculty member at Maryland University of Integrative Health and teach continuing education classes for acupuncturists on best practices for the treatment of traumatic stress.